14.Guanyin Temple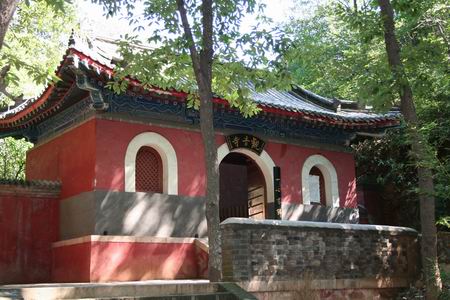 Guan Yin Temple which is located in oak forests at the altitude of 360 meters on the front slope of Hongluo Mountain was first built in Jin Dynasty. The first generation abbot of Hongluosi, Yunshan Patriarch refined elixir as a hermit here. The original Guan Yin Temple has been ruined. In 1995, it was rebuilt at the former address. Facing the south, it was built in 3 tiers (The Gate Hall, the Bodhisattva Guanyin Hall, Huicheng Hall). Two compounds are linked by 108 steps.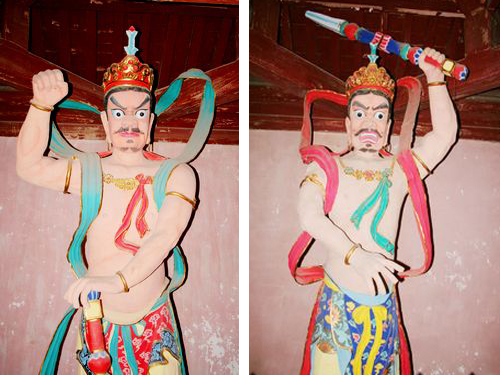 The Gate Hall
Two Diamonds who protect the law are offered. They are called Heng and Ha among people according to the joking remarks in the novel called Creation of the Gods. The Diamond with the mouth open is Ha, and the other with the mouth shut is Heng. The two Diamonds are of great strength and have a sturdy figure. They have fiendish looks and wear crowns, and both of them are naked upper part of the body. They protect the gate of the temple with diamond pestles in their hands.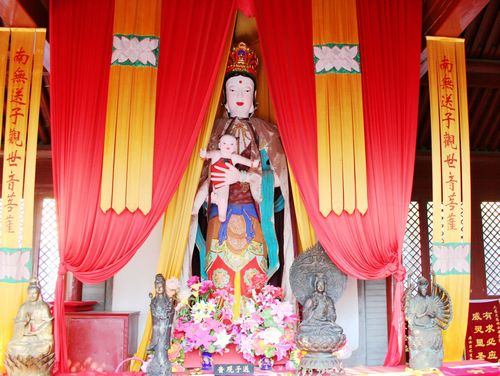 Guan Yin that brings children Hall
Guan Yin that brings children is offered in the hall. According to the record, Guan Yin has 33 images among which none brings children. The lady who brings children is an imagination of the folk. Guan Yin is everywhere so you needn't seek Buddha in the mountain. Populace worship the all-merciful Guan Yin widely, and most of the temples are Guan Yin temples in our country.
Huicheng Hall
Wen Shu in Chinese means fortune and good virtue. He's Taoist or Buddhist rites is on Wutai Mount, Shanxi province.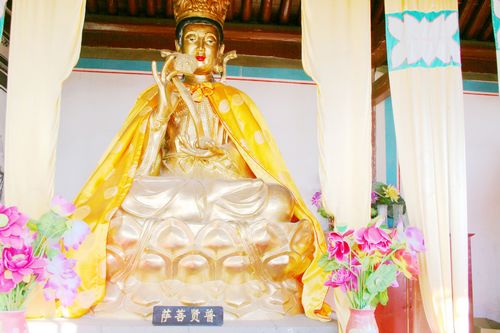 Pu Xian means kindness and virtue. He symbolizes truth. Emei Mount, Sichuan Province is his preaching place.