10.The Patriarch Hall
 Hongluosi is the largest Buddhist monastery in the north of China. The abbots there were appointed by the imperial family such as the famous Buddha Consciousness Hermit in Jin Regime and Mount Cloud Hermit in Yuan Regime. The venerable monks had the extraordinary Buddha's Dharma. The twelfth and thirteenth generation patriarchs had predestination with Hongluosi.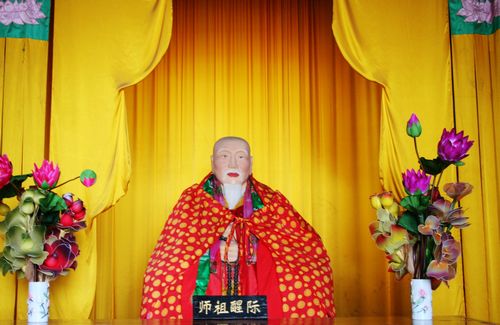 Ji Xing Patriarch(1741—1810) was from Fengrun, Hebei Province. He was the twelfth generation patriarch of the denomination of pure land. He came to Hongluosi to establish the preaching place of pure land in the fifth year of Jiaqing Regime(1800). Ji Xing Patriarch was pleased with the pure land and persuaded people to chant the name of a Buddha. Scholars of whole world gathered and gained far-flung fame. Monks from Southeast Asia traveled hundreds of thousand miles to fetch the scriptures, which made the temple very famous and attracted a large number of pilgrimers. The disciples of Ji Xing Patriarch sorted out data and compiled the book which is still popular today. On the December 17th, the fifteenth year of Jia Qing Regime, Ji Xing Patriarch passed away in Nirvana and over 100 relics were found patriarch.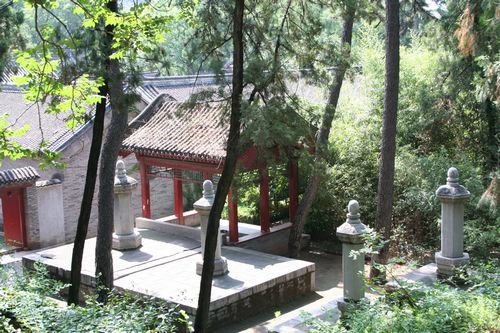 In April, 1993, staff of Heritage Management Bureau of Huairou District founded Ji Xing Patriarch's stupa when cleaning the underground of Putong Hall. With further search, thirteen Buddha relics and three teeth were found. From then on, Ji Xing Patriach's relics, the great treasure of Hongluosi, were unearthed and worshiped by people.
After the body of Sakyamuni was cremated, the crystal masses were called relics. Later, the crystal masses formed of the body of the venerable monks cremated were also called relics. Relics are divided into three categories. Bone relics are white, hair relics black, flesh relics red. And they are regarded as sacred.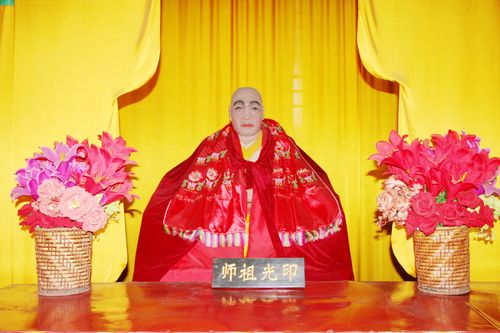 Yin Guang Patriarch(1861-1940) was from Heyang, Shan'xi Province. In the 23rd year of Guang Xu Regime, when he was 26 years, he heard that Hongluosi was the preaching place for pure land and didn't shrink from hardships to come here to Lotus temple Zhu Xi, Hubei province. He read scriptures in the posthumous works of Ji Xing with great eagerness day after day and year after year. He was determined to pray to Buddha. Six years later he made great progress. Later, he went to Fayu Temple on Putuo Mount, Zhejiang province and Baoen Temple to establish the preaching place of pure land. Thus there is the saying as we have Putuo in the south and Honguo in the north. Yin Guang Great Master is praised as the No.1 venerable monk since the founding of the Republic of China. He was the 13th patriarch of Pure Land Sect.